42 Kenilworth Drive, Oadby, Leicester, East Midlands LE2 5LG UK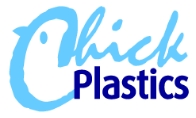 Chick Plastics Ltd ~ Plastic Injection Mouldings ~ Specialist Plastic Injection Moulding Company, Leicester, East Midlands UK.

© 2012 Chick Plastics Ltd, Plastic Injection Mouldings, 42 Kenilworth Drive, Oadby, Leicester LE2 5LG.
Registered in England No.1331475 VAT No: 290 2754 54
Chick Plastics specialise in the manufacture of injection moulded thermoplastic components and have the capability to serve a wide range of industries.
We process the majority of plastic materials, both virgin and recycled for example:-
• ABS Acrylonitrile Butadiene Styrene
• ASA Acrylonitrile Styrene Acrylate
• PS Polystyrene
• PP Polypropylene
• PE Polyethylene
• Organic PVC polyvinyl chloride – rigid and flexible
• PA6 Nylon
• POM Polyoxymethylene (Acetal)
• PC Polycarbonate
• PMMA Polymethyl Methacrylate
• TPE Thermoplastic Elastomer and many others.
We provide injection mould tooling to customer specification or will manufacture components from your existing tooling.
Rapid prototypes can be supplied
At the beginning of a project we can supply rapid prototypes from CAD drawings or 3D models; this enables the customer to optimise the product design before manufacture of the injection mould tool.
Surface decoration can be applied to products by way of foil lamination